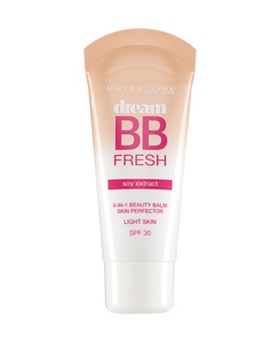 Ok I admit I've been VERY slow getting on the BB wagon. When I first heard about BB creams I was very interested as I like fresh faced make-up rather than a mask. However, being a loyal Bare Minerals foundation user I thought why would I need a new product? Mineral make-up allows me to create a natural look but at the same time build coverage.
However, last month I received some samples of
Maybelline Dream Fresh BB Cream
and gave it a quick go. Personally I was pretty impressed! The shade I received was Light but this BB cream seems to adapt easily to other skin tones. This worked really well for me, giving me a warm glow without looking orange.
What impressed me most was the coverage and finish of
Maybelline Dream Fresh BB Cream
. Typically, old style tinted moisturisers leave me with patchy colour and an oily finish. This instead lives up to it claims of evening out imperfections, even covering broken capillaries around my nose.
Furthermore, my skin looked glowing and fresh without being greasy. In fact, even though one of the claims of a BB cream is that it moisturises you can also get away with your usual moisturiser underneath too without looking like an oil slick! The texture of the cream is quite thick which gives me the confidence that a full foundation does.
For me this is a great summer/weekend face product as it is light, easy to use and has the added bonus of factor 30.
What do you think of BB creams? What is your favourite brand?