So for Christmas I got to lovely huge
Elemis
gift sets from my partner and I'm having to resist from opening all the products at once! A real star that I have started to use already though is the
Elemis Skin Nourishing Shower Cream
.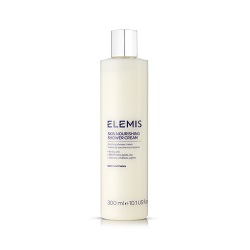 Elemis Skin Nourishing Shower Cream
doesn't look like anything spectacular. The colour and packaging of the product suggests that it is a basic moisturising shower cream. I assumed it wouldn't smell that exciting as it is aimed at those with dry sensitive skin.
However, one shower with this and I am completely hooked! It smells absolutely beautiful. I would describe it as a comforting scent almost like baby powder but not so floral. It has a subtle sweetness to it too.
Lush
used to make a bubble bath bar called
Hot Milk
and it reminds me of that.
Best of all a teeny blob of
Elemis Skin Nourishing Shower Cream
on a shower scrunchie or sponge makes loads of creamy foam which is incredible as it is SLS free. I love smothering myself in it and when the suds eventually go sometimes I can't resist another helping!
I'm a bit gutted at the steep price for a shower cream - £22 for 300ml?!? However, I really do love it so I will be on the look out for discounts or when it appears in
Elemis
gift sets again. I think this is now one of my top
Elemis
products and would like to try the other Skin Nourishing products in the range.
Have you tried this or any of the other Elemis Skin Nourishing products? Are you equally in love?